The Spodek building complex

The Spodek Sports and Entertainment Area consists of a number of buildings covering nearly 7 ha. Its outstanding architecture and convenient location in the heart of Katowice makes it popular not only with participants in large events, but also regular residents of the city.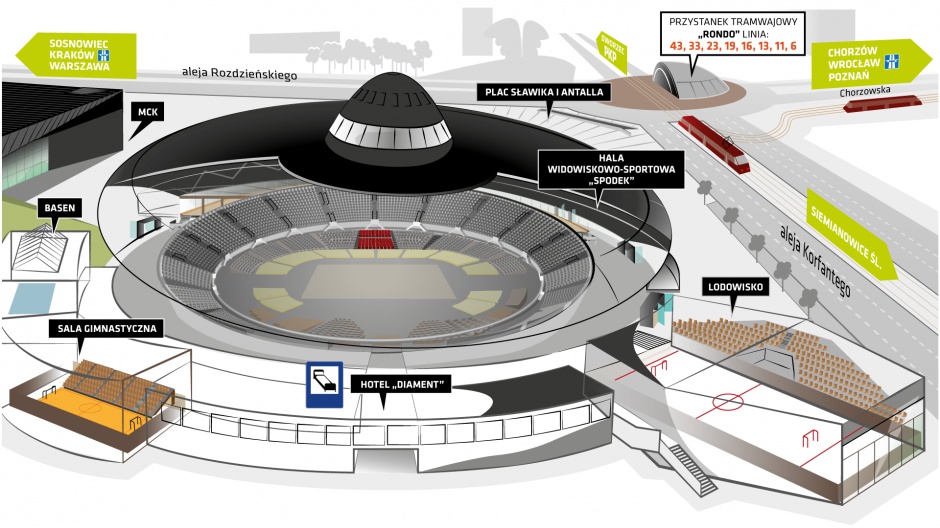 The multifunctional and versatile nature of the venue allows it to serve a variety of purposes: art and sports events, exhibitions, trade fairs, as well as congresses, conventions and trainings, which can take place in all buildings at the same time.

Additional recreational spaces, such as the swimming pool, sauna, ice rink and gym boost the offer of the Spodek Sports and Entertainment Arena and allow it to target companies and organized groups, as well as the residents of Katowice and the broader region of Silesia.
Main hall

The heart of the Spodek is its main hall. The venue has witnessed many concerts, sports events and trade fairs, and continues to amaze viewers with its architecture and unique atmosphere, attracting more and more fans as years go by.

Dimensions:
main platform – 45 m x 60 m
volume – 246,624 m3.
distance from the platform surface to the dome – 32 m
distance from the platform surface to the ceiling – 17 m
usable surface – 15,386 m2

Audience:
total capacity: more than 11,000 seats
permanent seats – 7,776
fold-out sector seats – 1,560
additional seats – 1,700
Additional facilities:
locker rooms for sports players and changing rooms for performers
140 2x1 bi-tech podiums
sound system equipment
lighting 2,200 lx
trade fair stands with equipment
stage structures
wireless Internet
Ice rink

The Spodek Sports and exhibition Arena also operates an ice rink, which hosts hockey games and creates an ideal space for recreation and integrational events.

Dimensions:
Ice rink 30 m x 60 m
Audience capacity 1,182 people
volume 35,500 m3
usable space 5,054 m2
height 11 m
Swimming pool

A small indoor swimming pool connected to a dry and steam sauna expands the recreational offer of the Spodek. The pool hosts swimming classes for children, as well as aqua aerobic and rehabilitation exercises.
The swimming pool will be open after technical approval; we will notify of its opening shortly.
Gym

The gym can host school tournaments and classes. It is also available for individual recreation purposes.

Dimensions:
main platform 30 x 30 m
usable surface 1,490 m2
audience capacity 362 people
volume 11,631 m3

Diament Spodek Katowice***Hotel
The complex also comprises the Diament Spodek Katowice ***Hotel, which offers:
- 30 fully furnished rooms
- free Internet access on the premises
- the Spodek Restaurant
- a bar
- a car park (due to the limited number of spots, it is necessary to make an advance reservation)

A spacious, open foyer with its glazed roof and comfortable couches invites guests to take a rest. Guests can take advantage of the leisure opportunities offered by the bar, mini golf, snooker/pool, exercise bikes and treadmill. The hotel has two rooms catering to the needs of guests with disabilities and several rooms with super-sized beds (2.40 m).
The offer is rounded out by the Spodek Restaurant and a bar/music club located in the underground area. Admission is free for hotel guests.