CONTACT
"Spodek" Sports and Entertainment Arena
Aleja W. Korfantego 35
40-005 Katowice

 +48 32 438 40 30
kontakt@spodekkatowice.pl
In order to rent the main hall, contact:

+48 780 105 963
+48 668 193 257
+48 780 105 953
+48 660 473 668

swimming pool, ice rink, gym
+48 780 105 966
basen@spodekkatowice.pl
EVENT INFORMATION
All information about events hosted in Spodek is provided by the organizer.
Organizers' contact details can be found in the EVENTS tab.
The Spodek Sports and Entertainment Arena is located in the very heart of the city. Together with the International Conference Centre, the Silesian Museum, and the seat of the Polish Radio National Symphony Orchestra, it forms the "Culture Zone" – a new urban space willingly visited both by tourists and the residents of Katowice and the Silesian Agglomeration.
Access by car
Its perfect location near the A4 and A1 highways allows it to be easily reached from various places in Poland and all over Europe. Numerous car parks located near the Spodek ensure your convenience.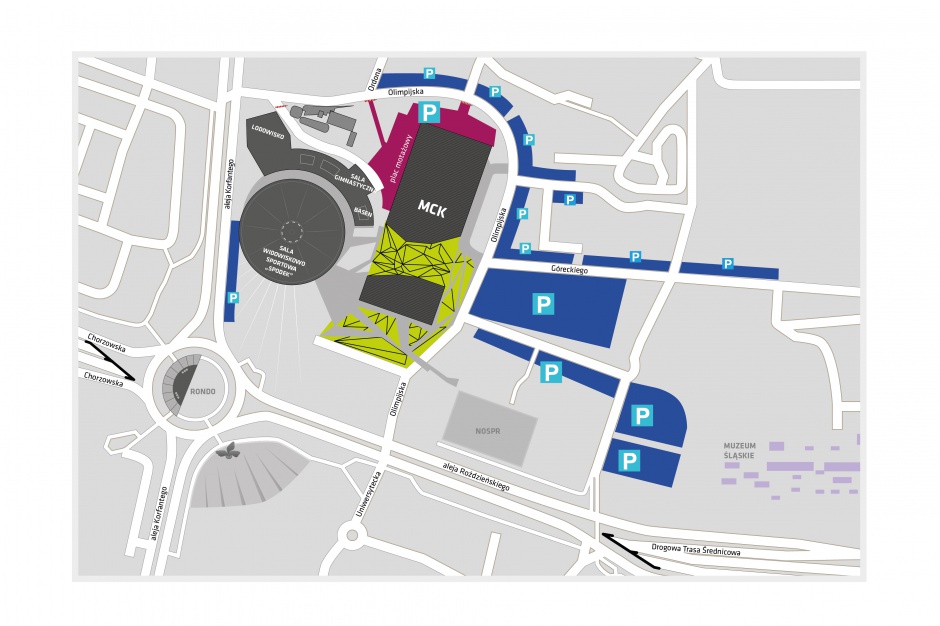 Access by train
How to get to the Spodek from the central railway station in Katowice:
on foot in 15 minutes (2.5 km)
by taxi from pl. Oddziałów Młodzieży Powstańczej or ul. Młyńska
by tram from the Katowice Dworzec PKP stop (lines T2, T11, T13, T23, T43) to the Katowice Rondo stop ( 8 minutes)
Access by bus and tram
The closest municipal bus and tram stops are Katowice Rondo, Katowice Spodek or Katowice Uniwersytecka.
Airline connections
Spodek is located at a distance of 30 km from the International Airport of Katowice-Pyrzowice. It takes about half an hour to reach the airport by car. If you land in Pyrzowice, you can get to Spodek by taxi (price: c. 100 PLN) or bus (c.30 PLN). If you decide to go by bus, get off at the Katowice Sokolska stop (1 km from the building) or the Katowice Hotel Novotel stop (850 m from the building).
The proximity of the international airports in Kraków-Balice (70 km, c. 50 minutes) and Ostrava (135 km, c. 1.2 h) makes it possible to access Spodek from various destinations in Poland, Europe and all over the world.