Hackathon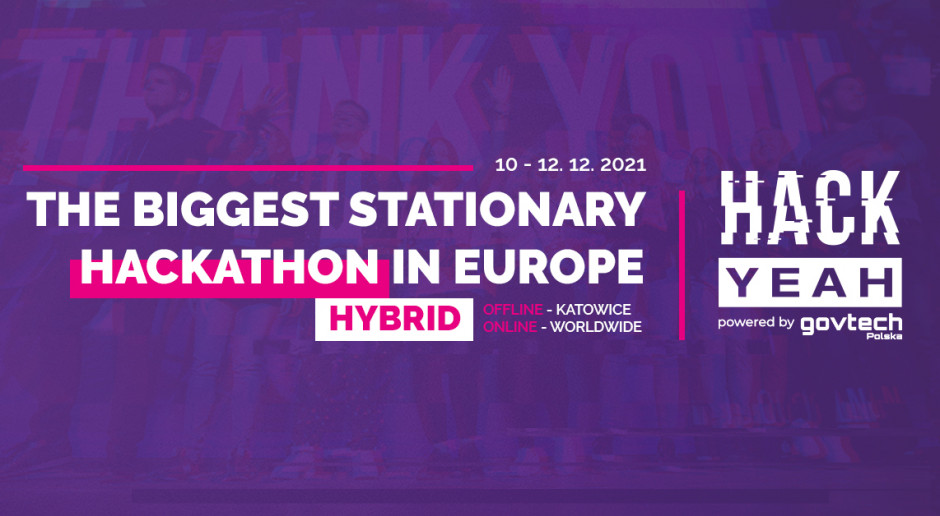 The first ever hybrid edition of HackYeah – the biggest hackathon in Europe, coming soon! This year we are a part of the Internet Governance Forum Afterparty.
Hybrid Hackathon? Say what?
You can join us either online (so pretty much from anywhere you want) or come to Katowice – we will have space for about 300 people (taking pandemic restrictions into consideration). All people will have access to the same tasks and challenges, however there might be some extra activities organized for both online and on-site participation. Online tickets are free, on-site ones cost 99 PLN, but the entire profit goes to charity – supporting IT education of underprivileged children.
When? 10-12.12.2021. We will start on Friday afternoon and finish on Sunday.
With one of our open tasks, we are focusing on MENTAL HEALTH! We were forced to minimize socializing due to the pandemic and it definitely took a toll on our minds! This task is supported by our Strategic Partner - Bayer and the main prize is 20 000 PLN!
The second open task is chosen by you guys and it is GAMING! The gaming category is going to develop our special mission...which is the EDUCATION THEME. And this task is supported by GovTech with 120 000 PLN prize pool!
But that is just the beginning! Our Main Partner, Bank Gospodarstwa Krajowego, has prepared  tasks with a prize pool of 100 000 PLN! The tasks will focus on innovations that can support entrepreneurship among Poles and on the topic of sustainable development.
Hungry for more? For now the prize pool is at 570 000 PLN and it's still growing… Growing like crazy, so check our website regularly – more partners, more updates and more details await in the upcoming weeks!
Who can join HackYeah powered by GovTech 2021?
Of course, EVERYONE! If you are just a little creative and you want to make the world a better place, come and see how simple it is. During our event you will have a chance to create innovative solutions for tasks from many various fields.
How does it work?
Organisers and Partners present you with a wide range of different tasks that you can work on during the hackathon. You choose the most interesting challenge for you and try to solve it in a way that brings the most effective solution to the community. You can participate as a lone wolf or create a team you will be working with over the 40 hours of the hackathon!