Kato zwei will start on the terraces of Spodek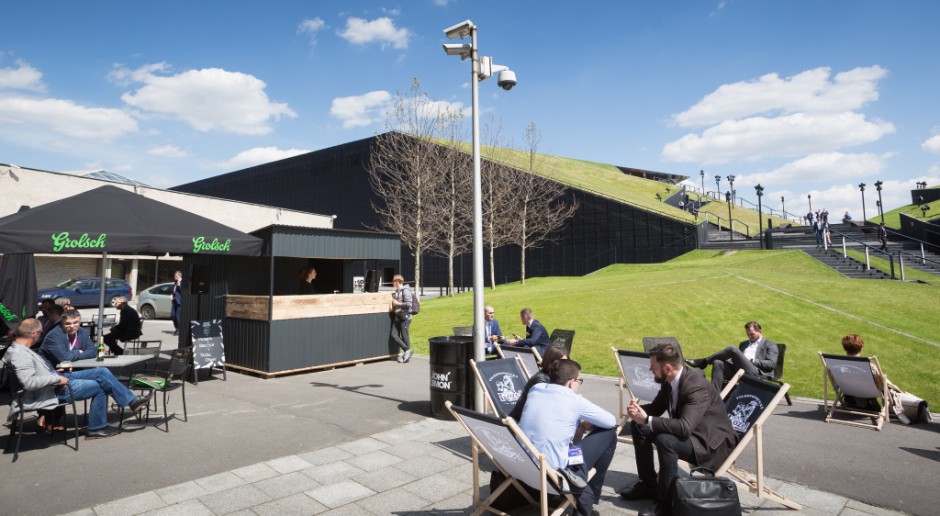 KATO ZWEI on the terraces of the Spodek Sports and Entertainment Area – in the summer that will the cultural centre of Katowice
A seasonal bar with street food and space for cultural activities – on Money 15 May, KATO ZWEI will start – a new project by the founders of the cult bar KATO. Throughout the summer, on the terraces of Spodek it will be possible to listen to concerts, see films, have picnics and participate in workshops and fairs. All of the above will be combined with a view of the dynamically changing city, close to the icons of the Culture Zone in Katowice and lit with a new neon sign.
KATO ZWEI is the brainchild of Michał Kubieniec, Dominik Tokarski and Tomasz Ziajski – city activists and founders of the KATO bar.
KATO ZWEI will be a bar with street food and also a space for cultural and social activities, aimed at various groups of the public. As befits the UNESCO City of Music, concerts will be a major item on the agenda. The organisers declare there will be a varied repertoire, with something for fans of electronic music and guitar concerts. Once a month, jointly with the John Lemon brand, concerts will be held of Polish alternative music by promising young stars. On the terraces of Spodek, in cooperation with the Bazar Concept Store, there will be regular sets from local DJs. KATO ZWEI will also be the stage for the projects Dzielnica Brzmi Dobrze and Biuro Dźwięku Katowice.
PTWP Event Center and project initiators invite the residents of Katowice to come to KATO ZWEI starting from Monday 15 May. The official opening will be held on Friday 26 May. The concert cycle titled "John Lemon on Air" will feature Baasch; at the after party, you will have the opportunity to listen to music by Kuba Sojka and a DJ set by Dmitruk.
All the events to be held within KATO ZWEI will be free of charge.