ECO policy in SPODEK Arena and International Congress Centre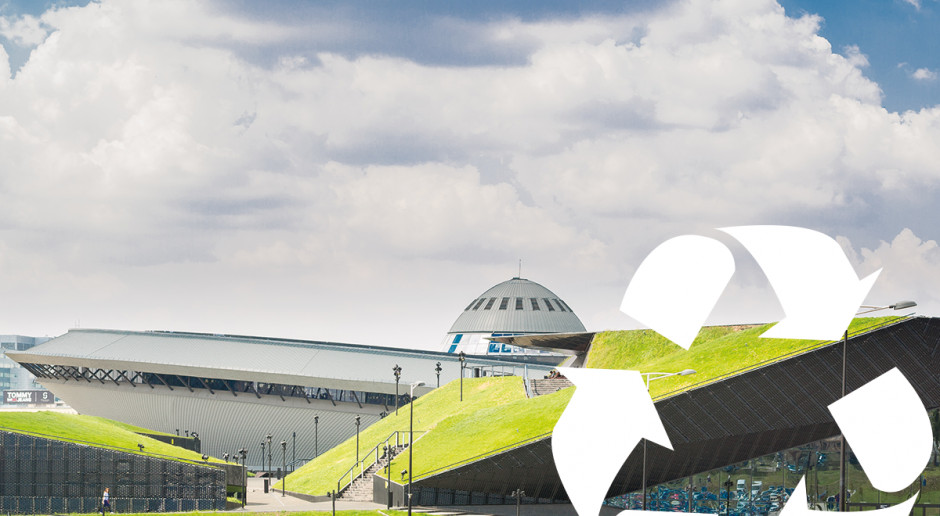 We have all been following the alarming news about climate change caused by our irresponsible actions. As administrators of the Spodek Arena and the International Congress Centre, responsible for nearly 500 events that attract over 1 million participants every year, we are aware that even small, gradual changes introduced to our daily processes may have a significant positive impact on the environment and, at the same time, educate those who take part in events held on our premises. Together with our partners, subcontractors and clients, we have been gradually implementing an ECO policy.
Let's be ECO together
A policy of responsibility for the natural environment is now a gold standard at many event centres.

Ever since we assumed management of the two buildings, we have gradually been implementing responsible environmental solutions:
in 2017, we introduced a heat and electricity management and use optimization system, which allows us to constantly monitor important ambient parameters such as temperature and CO²,
we have introduced an intelligent heating and ventilation system at the ICC,
at night, both the Spodek and the ICC are cooled down with low-temperature outdoor air,
we use an astronomical timer to control external lighting,
we have implemented a special process for the monitoring of lighting use,



green spaces on the premises are watered using rainwater stored in special retention tanks,



we have installed special screens to enhance the thermal insulation of the ICC and the Spodek halls.




The next stage of our ECO action plan is round the corner. What do we have in store for 2020?
regular lights will be replaced with LEDs in different areas of the International Congress Centre and the Spodek,
full waste sorting will be enforced during events, as well as their assembly and disassembly,



catering operators cooperating with the ICC and the Spodek will also implement a number of ECO solutions:

- meals will be served exclusively on porcelain and ecological disposable dishes: plates, forks and knives, boxes and containers will be made of paper or natural biodegradable materials such as cellulose pulp, wood, corn or bran,
- meals will not be packed in foil bags,
- drinks will not be served with plastic straws.
biodegradable cups will be used during events organized at the Spodek and the International Congress Centre, including mass events,
reusable cups will be used during selected events, such as concerts and sports events,
our clients and partners will be obliged to adhere to our ECO policy.
We are conscious of the critical importance of environmental protection today and, in cooperation with our partners and clients, we are determined to do our utmost to serve the cause. Together, we can do more.